GENERAL INFO
MUSIC BUYERS
MUSICIANS
For Music Buyers:
PMU Member CDs For Sale
PMU Member CDs For Sale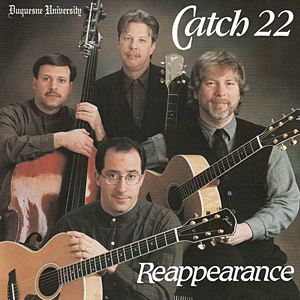 Catch 22
Jazz
Reappearance (1996)
Bill Purse, acoustic and classical guitars and vocals; Ken Karsh, acoustic and 12 string guitars; Mark Koch, acoustic guitar;
Jeff Mangone,
acoustic bass
Catch 22
was formed by faculty members from the guitar department of Pittsburgh's Duquesne University. They received tremendous critical and public acclaim right out of the gate. The group has since refined their art, improved their craft and blossomed into a solid three-guitar/bass partnership that continues to garner fans and admireres with every performance. On
Reappearance
, the set begins with "Sir George", Bill's atmospheric, modal composition. The piece combines the best of Mason Williams' "Classical Gas" and Pat Metheny's "Phase Dance." "Don't Get Around Much Anymore" is
Catch 22
's take of the immortal Duke Ellington line and, fittingly, the group is joined by master jazz guitarist Joe Negri. Dave Brubeck's "Blue Rondo A La Turk" combines complex jazz lines and funky blues-oriented licks juxtaposed against pulsating 9/8 and 4/4 time signatures. Additional songs include: "Andie's Song", "Bad Habitz", "Armando's Rhumba", "Lean Years", "Reappearance", "Minerva", "Pipeline".
Email: Jeff Mangone -
bassicjeff1@gmail.com
---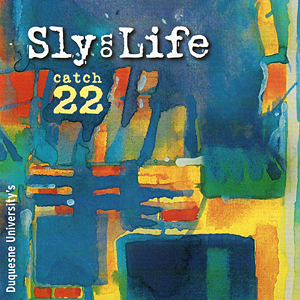 Catch 22
Jazz
Sly on Life (2003)
Bill Purse, Fender electric guitar; Ken Karsh, Fender electric guitar; Mark Koch, Fender electric guitar; Jeff Mangone, Fender electric bass and upright bass

On this recording Catch 22 plays on Fender electric guitars and bass. The Duquesne University faculty quartet are joined by guests Joe Negri, Billy Kuhn, Mike Tomaro Jay Ashby, Duduka DaFonseca and Rolando Morales, the Duquesne University Jazz Band, and the Butler Symphony.
Email: Jeff Mangone - bassicjeff1@gmail.com
---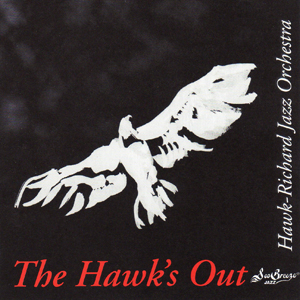 Hawk-Richard Jazz Orchestra
Jazz
The Hawk's Out (1998)
Steve Hawk, trumpet;
Charlie Richard, alto saxophone, flute and clarinet

The Hawks Out showcases Steve Hawk as lead trumpet in an orchestra comprised of virtuoso jazz musicians who attended University of Texas at Austin. Charlie Richard composed the title song, "The Hawks Out", for Steve in 1990 which they performed at the Long Horn Jazz Festival with the University of Texas Jazz Orchestra. This premiere led to the fulfillment of their life long dream and the creation of the Hawk-Richard Jazz Orchestra in Los Angeles in 1997.
Email: Steve Hawk - hawktrumpet@gmail.com
Website - SteveHawkTrumpet.com
---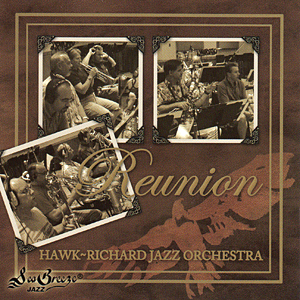 Hawk-Richard Jazz Orchestra
Jazz
Reunion (2005)
Steve Hawk, trumpet;
Charlie Richard, alto saxophone, flute and clarinet

Seven years after the recording of The Hawk's Out, the Hawk-Richard Jazz Orchestra reconvenes for Reunion. The CD features an original work by Steve Hawk, "Ground Zero", conceived after the events on 9/11/2001. Charlie Richard's "Suite for Jazz Orchestra and Alto Saxophone", is a three movement work inspired by compositions by Michel LeGrande, Pat Metheny and Phil Woods.
Email: Steve Hawk - hawktrumpet@gmail.com
Website - SteveHawkTrumpet.com
---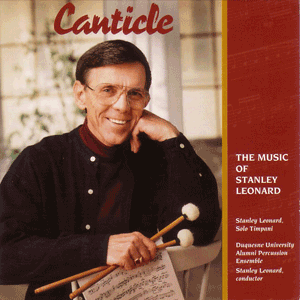 Stanley Leonard and the Duquesne University Percussion Ensemble
Classical
Canticle (1995)
Canticle is a documentation of timpani solos written and performed by Stanley Leonard. It also includes his percussion ensemble works that demonstrate the musical qualities and characteristics of percussion instruments. They represent a sampling of the varied range of percussion literature composed by Stanley Leonard. His works, and the works of many other composers of percussion music, are closely associated with the expansion of percussion's role in the music of our time. The Duquesne University Alumni Percussion Ensemble was assembled specifically for this recording.
Website - LudwigMasters Music Publications or SteveWeissMusic.com
---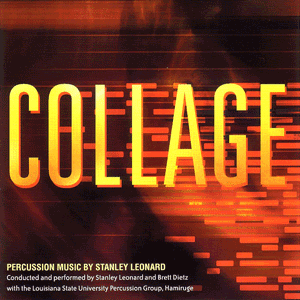 Stanley Leonard and Hamiruge, the Louisiana State University Percussion Ensemble
Classical
Collage (2007)
Collage celebrates Stanley Leonard's sixty-five years of involvement in the world of percussion and the seventy-fifth anniversary of his existence on planet Earth. The compositions on this CD were written by him between 1967 and 2007. Originally written for students at Carnegie Mellon and Duquesne Universities it also includes individually commissioned solo and ensemble pieces and works written for long time percussion colleagues and their ensembles. The LSU ensemble, Hamiruge, directed by Brett Dietz and Stanley Leonard, brings this music to life. A timpani solo, Collage, written especially for this recording, is performed by Stanley Leonard.
Website - www.c-alanpublications.com or SteveWeissMusic.com
---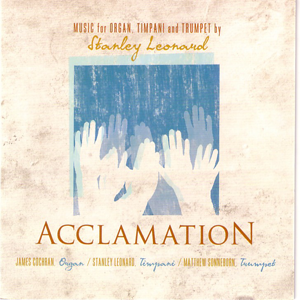 Stanley Leonard, timpani, James Cochran, organ and Matthew Sonneborn, trumpet
Classical
Acclamation (2010)
Acclamation is the latest CD of music composed and performed by Stanley Leonard. This CD highlights his music for organ, timpani and trumpet. He is joined by organist James Cochran, and trumpeter Matthew Sonneborn, in presenting his original music, settings of well known hymn tunes and arrangements of two works by G.F. Handel. Leonard has turned to the organ as his new "ensemble" after a 38 year career as principal timpanist of the Pittsburgh Symphony Orchestra. This CD joins two others, Canticle and Collage that present his works for percussion and timpani.
Website - www.stanleyleonard.com
---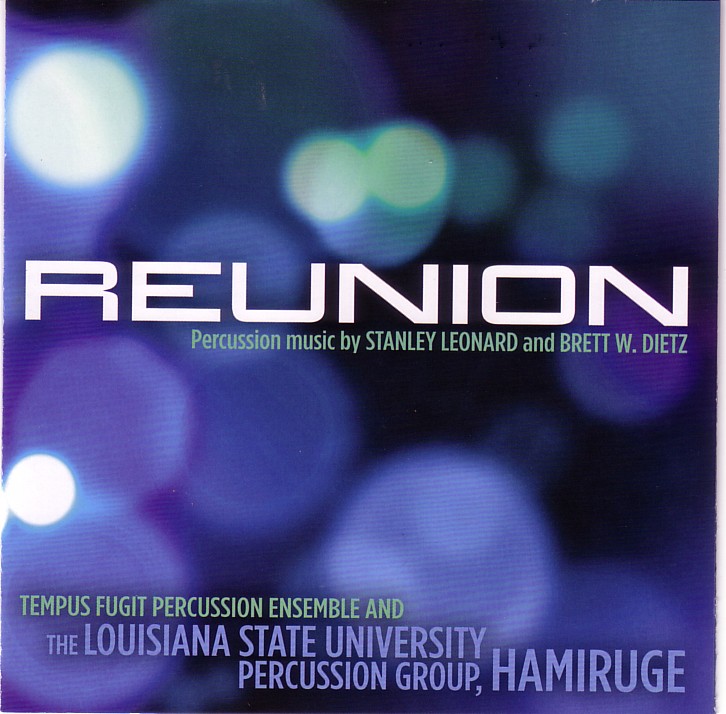 Stanley Leonard, Hamiruge, and Tempus Fugit
Classical
Reunion (2012)
Hamiruge, the percussion ensemble at Louisiana State University, and Stanley Leonard created a collection of his percussion works on the CD, Collage. The percussion ensemble, Tempus Fugit, participates in this new collaboration; its members were Stanley Leonard's students at Duquesne University. Several of the pieces on this CD were written specifically for Tempus Fugit. Included in the new collection of music are two compositions by Brett William Dietz, director of percussion studies at LSU, who also performs as a member of Tempus Fugit. The unique sounds of percussion come to life in large and small ensemble settings.Reunion is an occasion for celebration.
Website - www.stanleyleonard.com
---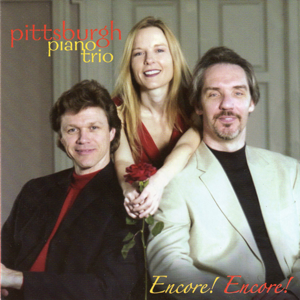 Pittsburgh Piano Trio
Classical/Crossover
Encore! Encore! (2008)
Jennifer Orchard, violin; Mikhail Isomin, cello; Igor Kraevsky, piano

Pittsburgh Symphony Orchestra artists Jennifer Orchard and Mikhail Istomin, along with Duquesne University pianist Igor Kraevsky, form the Pittsburgh Piano Trio. Since 1994, the Pittsburgh Piano Trio continues to excite audiences with dynamic and highly emotional performances throughout United States and abroad. The Trio is currently in residence at Duquesne University and the City Music Center where its members enjoy sharing their passion and enthusiasm for music with the younger generation. Encore! Encore! features works of Piazzola, Scott Joplin, Ginastera, Albeniz and many others.
Email: Mikhail Istomin - mistomin@comcast.net
Website - www.FreeTrioCd.com
---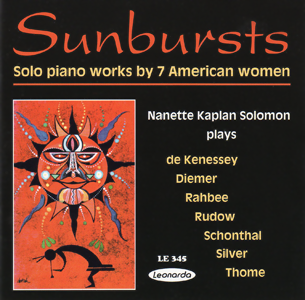 Nanette Kaplan Solomon
Classical
Sunbursts: Solo Piano Works by 7 American Women (1998)

Nanette Kaplan Solomon, Professor of Music at Slippery Rock University in Pennsylvania, performs piano music by Ruth Schonthal, Sheila Silver, Diane Thome, Stefania deKenessey, Vivian Adelberg Rudow, Dianne Goolkasian Rahbee, and Emma Lou Diemer. Solomon's third CD, Sunbursts, adds a companion to her previous release Character Sketches: Solo Piano Works by 7 American Women. "If you like memorable melodies, accessible harmonies with a touch of hot dissonance, this CD is for you. Almost all neo-romantic in scope, the pieces complement each other while retaining their own flavors and style...Nanette Kaplan Solomon presents each piece with nuance and indefatigable attention to detail coupled with a bravura technique that leaves the listener breathless...The recorded sound is very good, and the piano has a clear and warm sound...Highly recommended." -- Women of Note Quarterly.
Email: Nanette Kaplan Solomon - nanette.solomon@sru.edu
Website - http://www.leonarda.com/le345.html
---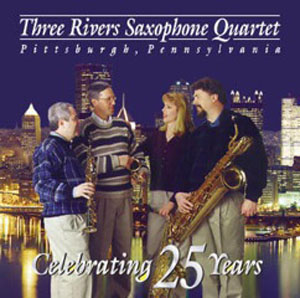 Three Rivers Saxophone Quartet
Classical/Jazz
Celebrating 25 Years (1998)
Marino Galluzzo, Soprano Saxophone; Michael Jacob, Alto Saxophone; Marcy Westerlund, Tenor Saxophone; and David Matthews, Baritone Saxophone

Three Rivers Saxophone Quartet artists Marino Galluzzo, Michael Jacob, Marcy Westerlund and David Matthews, recorded their first CD after 25 years of performing programs of this nature throughout the Western Pennsylvania region. This CD features Classical and Jazz works by original artists as well as arrangements by local musicians (James Guerra) and friends from Canada.
Email: Marino Galluzzo - galluzzomr@mac.com
Website - www.threeriverssaxophonequartet.com
---
Three Rivers Saxophone Quartet
Christmas/Jazz
MistleToons (2009)
Marino Galluzzo, Soprano Saxophone; Michael Jacob, Alto Saxophone; Marcy Westerlund, Tenor Saxophone; and David Matthews, Baritone Saxophone

TRSQ members Marino Galluzzo, Michael Jacob, Marcy Westerlund, and David Matthews, present this second CD featuring traditional carols in a classical and jazz quartet style. Cover art by fellow saxophonist Don Simpson caricatures the quartet for this fun-filled holiday album!
Email: Marino Galluzzo - galluzzomr@mac.com
Website - www.threeriverssaxophonequartet.com
---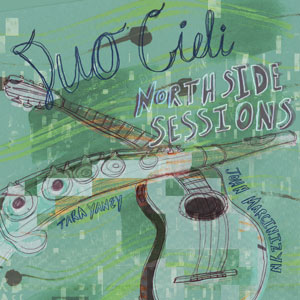 Duo Cieli
Classical/Irish
North Side Sessions (2017)
Tara Yaney, Flute; John Marcinizyn, Guitar

Featuring Tara Yaney, flute and John Marcinizyn, guitar, a collection of tunes from some of the world's greatest composers, arranged for guitar and flute. Enjoy our arrangements of music that we love from three continents. from Spanish composer Manuel de Falla's fiery yet tender Suite of Popular Songs, his most often performed love songs....to American and Irish folk and popular songs that will make you smile and weep.....to Piazzolla monumental journey of the world's most passionate and romantic dance music, History of the Tango.
Email: Tara Yaney - tlyaney@msn.com
Website - www.tarayaney.com
---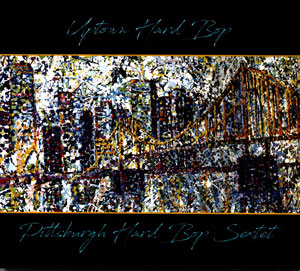 Pittsburgh Hard Bop Sextet
Jazz
Uptown Hard Bop (2017)
George Clewer,Tenor Sax; Ralph Guzzi, Trumpet and Arranger, Kevin McManus, Trombone; Rick Purcell, Piano; Brian Stahurski, Bass, Rich Boles, Drums; Kevin Clark, Additional Piano

Pittsburgh Jazz Musicians George Clewer, Ralph Guzzi, Kevin McManus, Rick Purcell, Brian Stahurski, Rich Boles and Kevin Clark perform Jazz music from the 60's and 70's Hard Bop era. Songs by Horace Silver, The Jazz Messengers and others highlight this premiere CD by the Pittsburgh Hard Bop Sextet.
Email: George Clewer - president@afmpittsburgh.com

---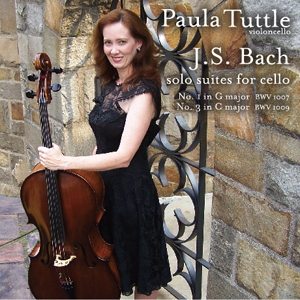 Paula Tuttle
Violoncello
J. S. Bach - Solo Suites for Cello
No. 1 in G major BWV 1007, No. 3 in C major BWV 1009
The Prelude of Suite No. 1, mainly consisting of arpeggiated chords, is probably the best known movement from the entire set of suites and is regularly heard on television and in films. The second Minuet is one of only four movements in all six suites that doesn't contain any chords. In Suite No. 3, the Prelude consists of an A-B-A-C form, with A being a scale-based movement that eventually dissolves into an energetic arpeggio part; and B, where the cellist is introduced to thumb position, which is needed to reach the demanding chords. It then returns to the scale theme, and ends with a powerful and surprising chord movement. The Allemande is the only movement in the suites that has an up-beat consisting of three semiquavers instead of just one, which is the standard form. The second Bourrée, though in C minor, has a 2-flat (or G minor) key-signature. This notation, common in pre-Classical music, is sometimes known as a partial key-signature.
Email: Paula Tuttle paulatuttle@yahoo.com
Website: PaulaTuttleCello.com